Stepping into Otomisan in Boyle Heights feels like a step back in time. It's a cozy diner with just three red booths to the right of the entrance, and a counter with five stools to the left. Along the walls are a mixture of old Japanese paintings, photographs of family and friends, and more recent news clippings about the restaurant. There is usually at least one table of Japanese customers chatting with the current owner.
Boyle Heights sits just east of downtown Los Angeles and is known for having a large Chicano community and some of the best Mexican food in the city, but it once was also home to a large Japanese community, due to the neighborhood's proximity to Little Tokyo, just across the L.A. river. Boyle Heights was affordable and also one of the few places Japanese-Americans were allowed to live in L.A. after World War II, when they were released from the U.S. internment camps. This history is largely unknown to younger Angelenos, although the recent children's animated series City of Ghosts renewed attention to this part of L.A. history.
In 1927, it was estimated that there were 1,400 Japanese-Americans living in Boyle Heights. These days, there are few remnants left behind of the once-vibrant Japanese community here, but the small neighborhood diner, Otomisan, is one of them. Otomisan is not only the last remaining Japanese restaurant in Boyle Heights, but is also the oldest continuously operating Japanese restaurant in Los Angeles. Otomisan first opened its doors in 1956 and was recently listed as a Historic-Cultural Monument by the L.A. City Council.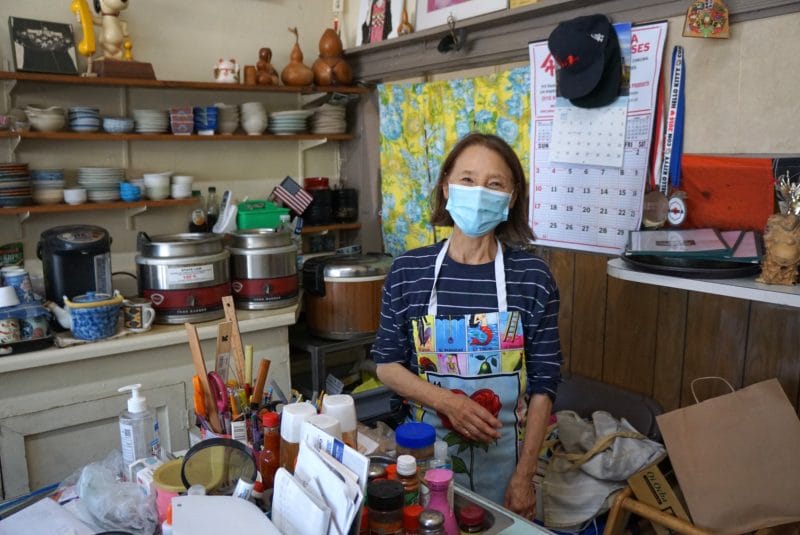 Otomisan went up for sale around 2005 when one of the previous owners passed away, and Yayoi Watanabe, a local businesswoman, stepped up to be the third owner since Otomisan first opened. She already owned a dry cleaning business nearby and she decided to purchase Otomisan in order to keep the Japanese history alive in the neighborhood. These days, you'll find her at Otomisan whenever it's open. Watanabe works the front of the house, greeting guests with a smile as they come in, and taking their orders. She totals the customers' bills with an old calculator and hand writes each on a receipt pad. A true family-run place, her son works in the kitchen with the help of one employee during lunch, since that's the busiest time of day.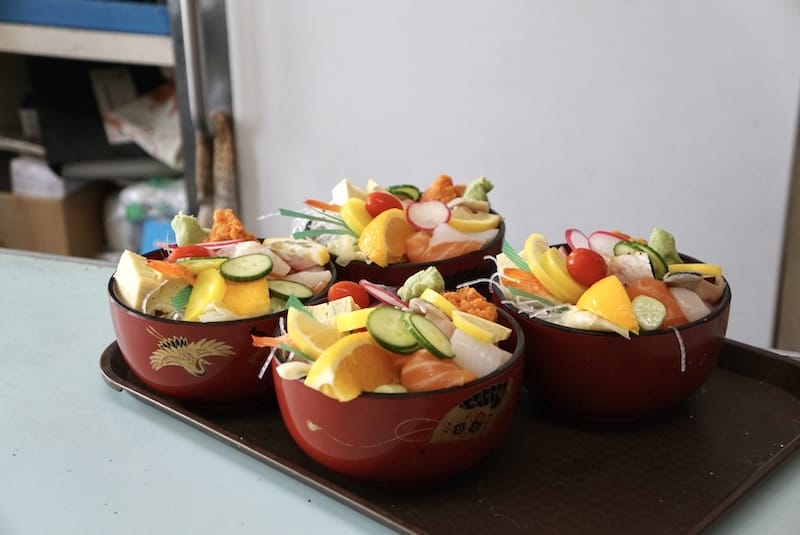 During lunch hours, the diner is usually full. A couple of customers wait for a seat or their takeout order on the folding chairs by the entrance. The TV is tuned to a news channel. At the tables, customers dig into Japanese comfort food. On one of my visits, we saw a tray of chirashi bowls going to a table of regulars. The chirashi bowl was not on the menu, but it looked so good – topped with yellowtail, salmon, scallops and spicy tuna – that we had to order one as well.
Yayoi has done business in Boyle Heights for the past 30 years, so her daughter, Judy Hayashi, also spent a lot of time in the neighborhood as a child because of it. "We do have some customers who have been coming for a long time," said Judy. It's clear from the lively conversations around us that there are a lot of regulars here, both those who have been coming for decades as well as a younger clientele who have made Boyle Heights their home more recently.
When she took over the restaurant, Watanabe based the menu on the original recipes of the previous owner, Akira Seino, but condensed it to make it easier on the kitchen and incorporated suggestions from long-time customers. The menu is now quite diverse, with pork katsu curry, oyakodon, and udon noodles – but mostly, Otomisan is known for their tempura. Their tempura batter is light, delicate and perfectly crispy. Every tempura order comes with shrimp, along with a selection of vegetables like eggplant, zucchini and green beans. The tempura even became central to the plot of the City of Ghosts Boyle Heights episode in which a ghost named Janet keeps throwing away the deep fryer so that the restaurant owner would fry their tempura the traditional way. Fun fact: Yayoi's daughter Judy is actually the voice of the ghost in this episode.
These days, the restaurant looks much like the same, warm mom-and-pop spot it has always been, but on the walls, tables, and refrigerators are paintings and drawings done by Watanabe's grandson when he was younger. "He used to come here and draw after school," Watanabe reminisced. It almost feels like you're in her home kitchen, and the atmosphere is convivial. While we were there, a customer walked back inside and handed Watanabe a lottery ticket, jokingly making her promise to split the winnings with him. Hopefully she'll keep Otomisan running, even if she hits the lotto.
August 5, 2022 Chabuzen
Daiji Takada, owner of Chabuzen, peeks out over the counter from the kitchen, which has […] Posted in Tokyo
July 25, 2022 Naan Hut
Even as traffic slithers to a crawl west of the 405 Freeway on Santa Monica Boulevard, […] Posted in Los Angeles
June 17, 2022 Simpang Asia
Leni Kumala and her husband Welly Effendi didn't plan on opening an Indonesian […] Posted in Los Angeles