LAKEVIEW — A Japenese restaurant will open in the former Southport Lanes building, completing Boka Restaurant Group's three-restaurant project to fill the closed bowling alley.
Itoko will open this fall at 3325 N. Southport Ave. It's the product of a partnership between Boka and chef Gene Kato of Momotaro in the West Loop.
Kato has built a loyal following throughout his career, according to Eater Chicago, which was the first to report on Itoko.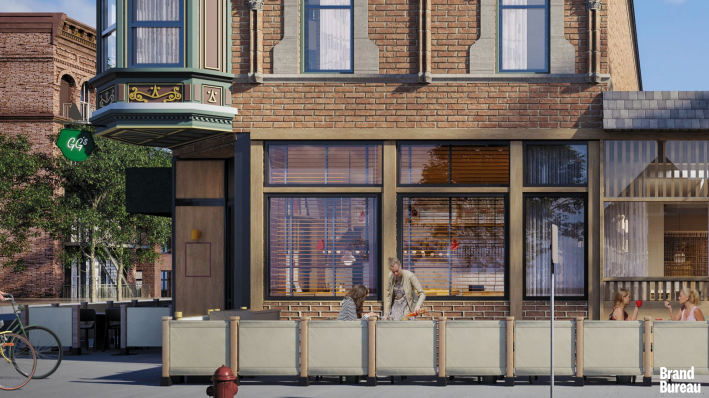 Itoko — the Japanese word for "cousin" — will offer the same quality of ingredients and technique Kato has become known for over the years, but in a relaxed environment, according to the restaurant's announcement.
The restaurant's interior, designed by Brand Bureau, was inspired by research on Japanese heritage and traditional tea houses, according to Itoko. The space is designed in the Japandi style, which is the blending of Japanese and Scandinavian aesthetics.
The restaurant will have a 2,750-square-foot first floor with a 650-square-foot private dining room on the second level, according to Itoko.
The menu will feature sushi rolls centered on high-quality fish, according to the announcement. The drink menu will focus on cocktails and highballs, highlighting the relationship between the food and beverages.
The restaurant will also have a sake program designed to demystify the Japanese spirit, according to Itoko.
Itoko is one of three restaurants that Boka will open in the former Southport Lanes. The others include GG's Chicken Shop by Chef Lee Wolan and Little Goat Diner by Chef Stephanie Izard.
GG's Chicken Shop is expected to open this winter, followed by Little Goat Diner in the late winter or spring, according to Boka.
Southport Lanes, a restaurant and bowling alley in Lakeview, closed in late 2020 after months of being shut down because of the pandemic. Its owners announced in July 2021 it would remain closed for good.
Southport Lanes has long been a part of Chicago lore given its history as a classic tavern that turned into a speakeasy and brothel during Prohibition.
The bar was built by Schlitz Brewery around 1900 and named The Nook. But in 1922, federal laws banned brewers from owning taverns, so its name was changed to Southport Lanes and four hand-set bowling lanes were added.
The tavern became a speakeasy with an upstairs brothel during the 1920s, according to Southport Lanes' website. The building still has a dumbwaiter that was used to bring refreshments to the women and their clients.
When Prohibition ended, a building was built to the east of the bar room, which Southport Lanes used as the billiards room. This building originally housed an illegal gambling facility, and it became a beer hall for rent and a local polling place in the '50s.
Listen to "It's All Good: A Block Club Chicago Podcast":
https://blockclubchicago.org/2022/08/15/boka-opening-itoko-japanese-restaurant-in-former-southport-lanes-building/