Warehouse Cafe, the global cuisine-based restro-bar from the house of First Fiddle Restaurants located in South City Mall is a hit! Try grabbing a place on weekends and there would be a neat waiting time. With Amit and Vanita Bajoria as local franchisees, the brand is always looking to grab the attention of the guests with something new. The150-seater outlet has introduced a menu focussing on Japanese fare like sushi, Yakitori Chicken Skewers and more.
"Our newly introduced Japanese dishes will get you gushing about its unique fare! Serving the sides and the Kolkata favourite sushi as well. There is something for vegetarian and non-vegetarian lovers on the menu. We have a mix of crispy, sweet, spicy, tangy and other flavours all packed into our new menu. We want to ensure that everyone has a great time at our place and can eat their heart out. We are calling all Japanese lovers to come and enjoy a full menu, melodious music and obviously a great time!" said Vanita Bajoria.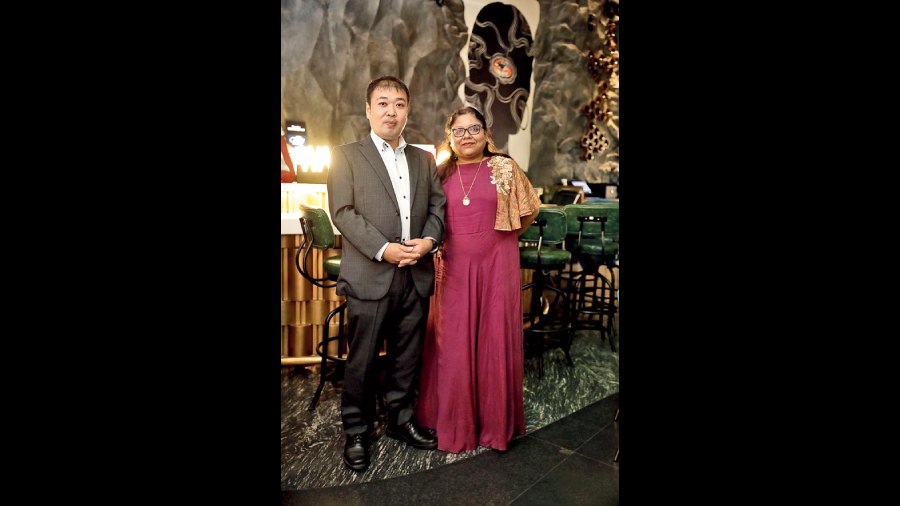 (Right) Vanita Bajoria and (Left) Yamasaki Matsutaro
"Since food is an important part of Japanese culture, one of our responsibilities is to promote Japanese cuisine in local restaurants. In this context, I would like to appreciate the tireless efforts in introducing modern Japanese dishes. I was amazed to witness the grand display of so much Japanese food. The efforts of the chef and other support staff of Warehouse Cafe is really commendable. Here, the customers will not only enjoy the taste of the Japanese cuisine but also its presentation, which is an integral part of the experience. Hope, this endeavour will definitely continue to popularise Japanese cuisine among food lovers," said Yamasaki Matsutaro, deputy consul general, consulate general of Japan in Kolkata.
The Telegraph Picks

Sushi Smoked Salmon: This is our top pick from the non-vegetarian sushi options. Smoked salmon brilliantly complements the cream cheese and crunchy English cucumber filling, garnished with microgreens. We love! Rs 725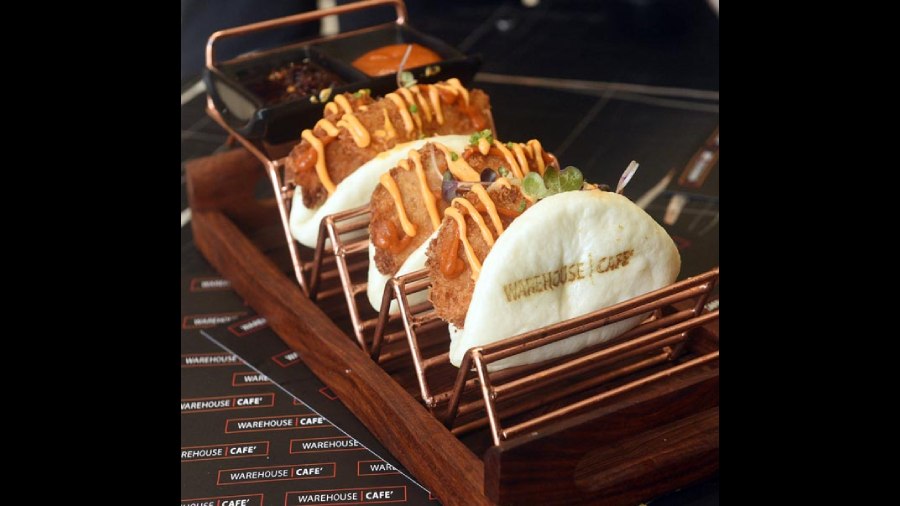 Katsu Chicken Bao: Non-sushi fans can call for these very filling baos that envelop Japanese fried chicken, Sriracha mayo, tangy chilli sauce and kimchi. The freshly made soft and fluffy baos come with signature Warehouse stamping. Rs 375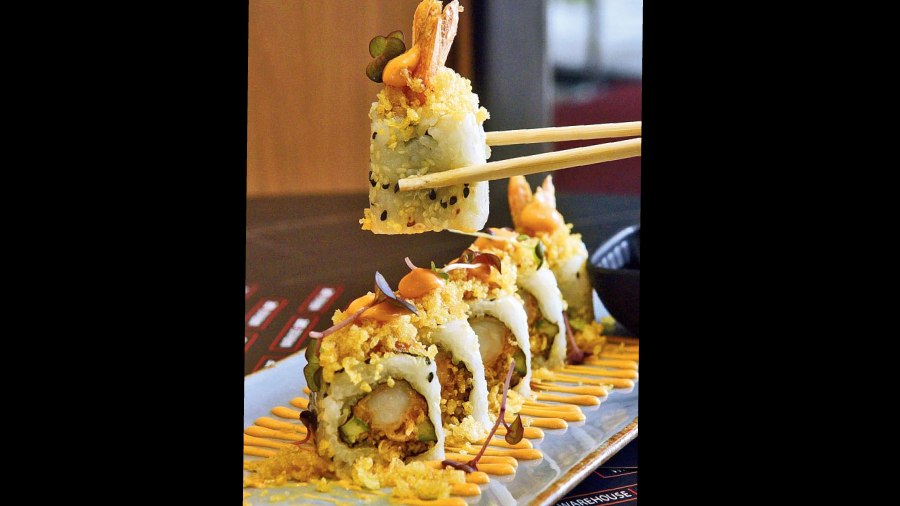 Prawn Tempura: Spicy Sriracha, tempura fried prawn and English cucumber form the base filling of this sushi that is a clear winner. They are drizzled with soya so just pick up and pop in your mouth. Rs 625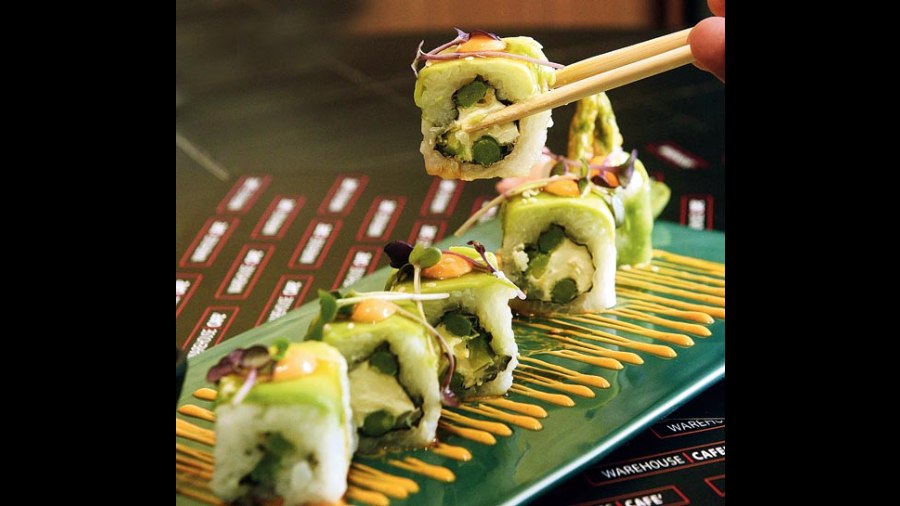 Asparagus Tempura, Cream Cheese, Avocado Roll: Vegetarians can dig into these rolls that have delicious cream cheese, diced avocado and cucumber rolled up. We loved the clean dish with sublime flavours. Rs 495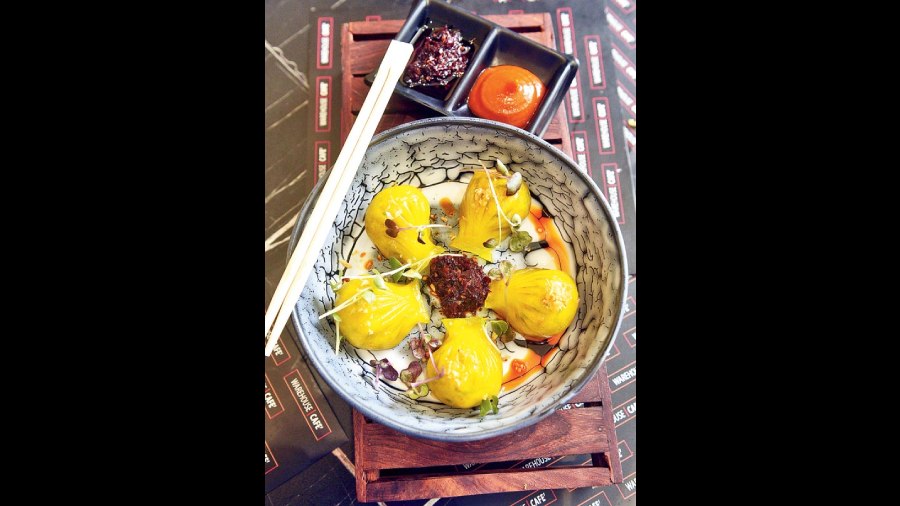 Sriracha Chicken Dimsum: Who doesn't love devouring yummy dim sums, especially when it has spicy minced chicken filling with leeks, celery and garlic inside translucent yellow steamed cover? Ideal when its raining! Rs 395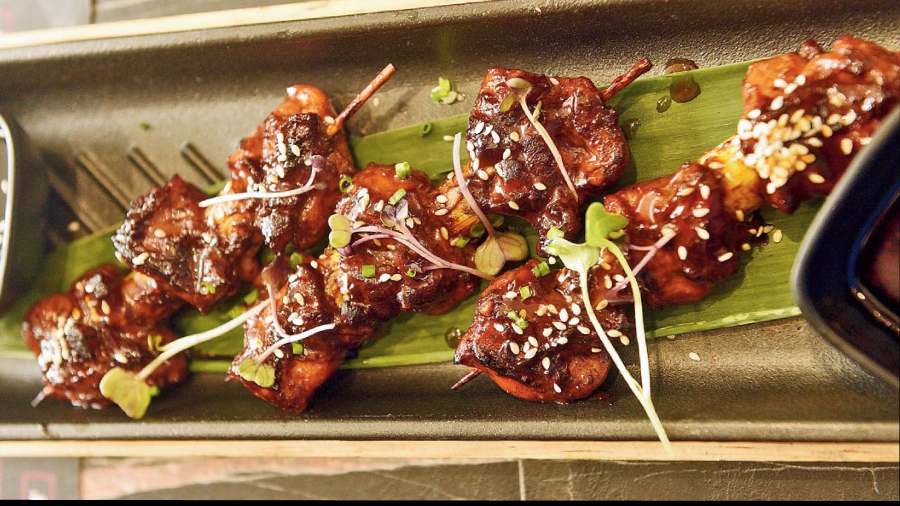 Yakitori Chicken Skewers: A clear fave, these juciy chicken chunks are marinated for four-five hours and cooked on the grill and roasted with leeks. The star of the dish is the Yakitori sauce and chicken combo. Rs 455

https://www.telegraphindia.com/my-kolkata/food/a-dash-of-japan-awaits-you-at-warehouse-cafe/cid/1883849